CENTRAL DELAWARE BY THE NUMBERS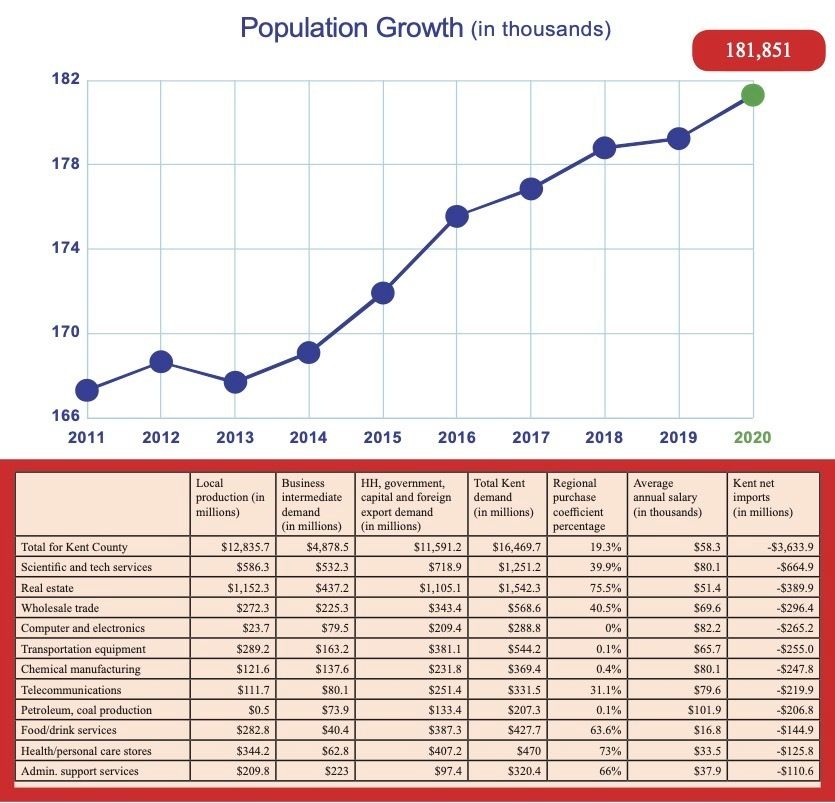 Population
Kent County, the middle of Delaware's three counties, has a population of 181,851, according to the U.S. Census Bureau's 2020 count.

The county saw a 12 percent change since the 2010 Census count of 162,310 people.
Households
The county had 67,299 households per the 2020 data, up 2.3 percent from the 65,800 households as of 2019. That number has been projected to continue growing.

Household income did decrease slightly as the pandemic began, by 1.3 percent. The median household income registered for 2016 to 2020 is $60,117 (about $800 less than before). Income was previously expected to increase in Kent County.

Households with a computer composed 91.3 percent of those recorded, and 87 percent of households had a broadband Internet subscription.
Education
In all, 24.5 percent of Kent Countians (age 25 and older) had obtained a bachelor's degree or higher, and the total rate of those with at least a high school diploma was 88 percent.
Employment
This analysis is based on the 2017 study by Rockport Analytics. Kent County total employment was estimated at 91,100 in 2017 (by place of residence), up from about 72,000 at the new millennium. This includes both full- and part-time jobs. Job gains are expected to continue at a pace of about 1.1 percent per year through 2022 — consistent with an aging population and lower labor force participation rates.

In Kent, 5,500 businesses generated $12.3 billion in sales in 2017 with the help of those 91,000 employees who were paid more than $4.1 billion in wages and salaries. The average Kent business has about 16 employees, slightly below the U.S. average. Health care, retail, government and leisure sectors dominate jobs, totaling 46 percent of all Kent full-time employment.

Meanwhile, Kent County's occupational distribution is broad-based, but scientific-technical workers are scarcer than in other Delaware counties. This will be a challenge for attracting sectors dependent upon these skill sets.

Traded clusters are those that export much of their output/sales to other regions or other countries. As such, their sales bring new monies into the Kent economy. Traded clusters are often populated by the area's marquee businesses and largest employers. Kent's 2017 dominant traded clusters are hospitality, distribution and transportation and poultry processing.

Over the past decade, Kent traded clusters have added 4,700 jobs mostly in hospitality, distribution and education. Meanwhile, traded cluster job losses (chemical and paper manufacturing, construction, and financial services) totaled 2,100 during that same period for a net of 2,670.

Local cluster sales are generally made in-region, meaning that income/wages generated at those businesses are being mostly "recycled."

Health care, landscaping, hardware stores and auto dealerships provided most of the 10-year job gains in Kent local clusters (4,820).

State government is the largest employer in the county with over 11,400 jobs ranging from office workers to administrators, law enforcement to educators. Meanwhile, local government employs more than 5,000 workers in Kent — 3,870 are education workers and 1,180 work elsewhere in local government.