HISTORY OF CENTRAL DELAWARE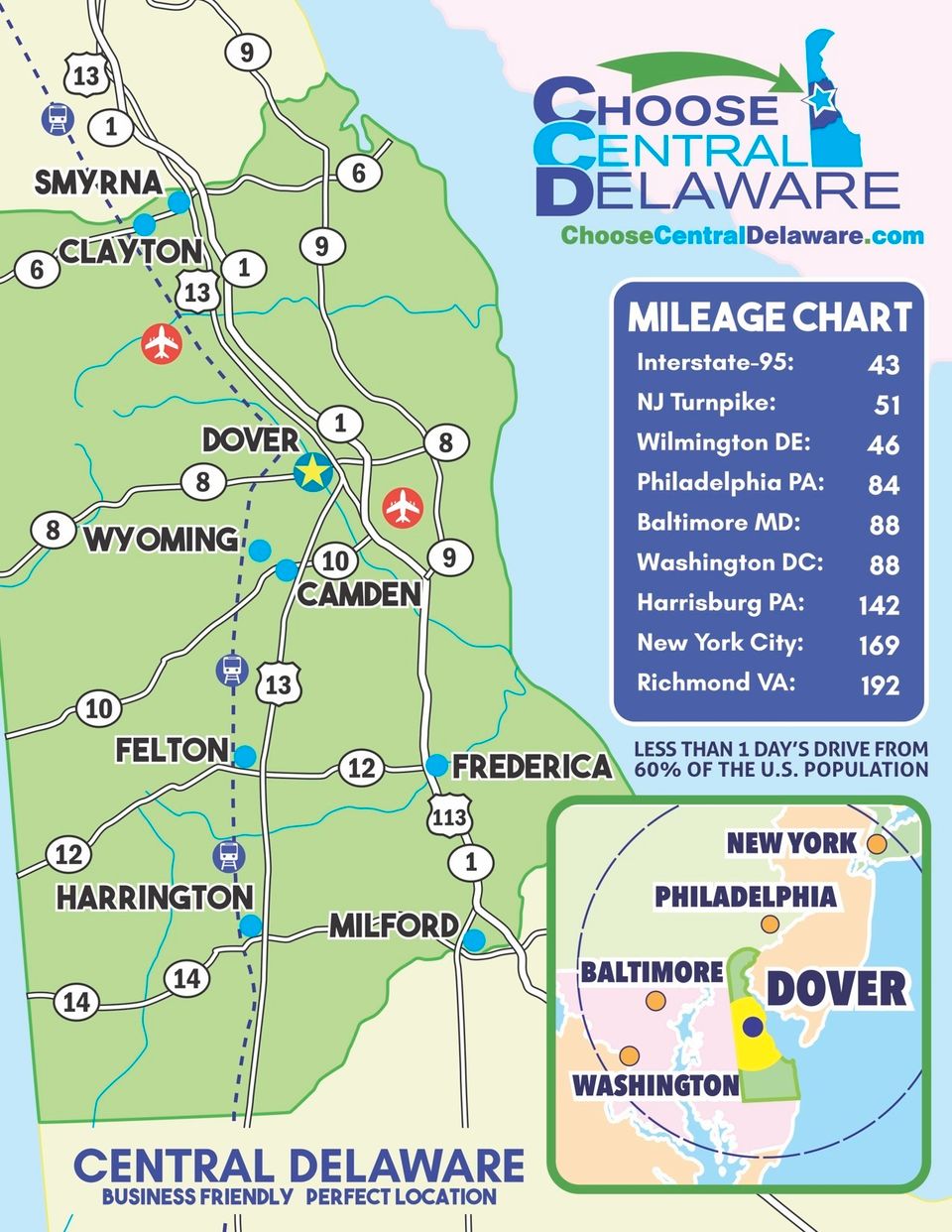 LIVING THE GOOD LIFE IN CENTRAL DELAWARE
Delaware is proud of its colonial history. Even in 1787, decision makers could meet quickly in a small state, which made Delaware the first state in the union to ratify the U.S. Constitution. The meeting site, the former Golden Fleece Tavern, was next door to The Green, where the week-long Dover Days festival occurs each spring.

Meanwhile, Delaware State Fair fills the summertime with two weeks of downright fun: carnival rides, fair food, agricultural exhibits, livestock competitions and big-name concerts in Harrington.

Medicine is a major part of Delaware's economy, especially with the likes of Bayhealth health and hospital system in Milford, Dover and Smyrna. In addition to many other health and wellness centers, the Dover Behavioral Health System provides mental health and addiction treatment. Delawareans also appreciate the close proximity to metropolitan centers, like Johns Hopkins Hospital, Nemours Children's Hospital and the Hospitals of the University of Pennsylvania – Penn Presbyterian.


Central Delaware is also proud to host the Dover Air Force Base, home to the Department of Defense's largest aerial port and approximately 11,000 various service members, civilians and families. Its personnel are responsible for global airlift of supplies, plus the mortuary affairs of fallen service members. Besides living, working and learning in this community, service members also host the Thunder Over Dover air show for the public.

Many families love Kent County because of the strong sense of community. Saturday afternoons can lead you to the hustle and bustle or quiet country roads. Wildlife abounds at state parks and spots like Bombay Hook National Wildlife Refuge, with long, winding paths, peace and quiet. Follow the highway to Rehoboth Beach in Sussex County, or splash over to Killens Pond Water Park in summer. Regional art and national exhibitions brighten the halls at Biggs Museum of American Art, with thought-provoking works and free children's programs. Shop local on the main streets of the many municipalities, or dig into a good book at the local library. And after all that, large shopping chains finish the job.
Live music is a highlight of Delaware's nightlife. Firefly Music Festival has brought megastars like Billie Eilish, Beck, the Red Hot Chili Peppers, the Foo Fighters, Sir Paul McCartney, Florence and the Machine, Mumford & Sons and more. Meanwhile, folks can try their luck at Bally's Dover Casino Resort, which hosts live table games, live music and a lively drink menu at the Sugar Factory (where all ages can delight over massive, over-the-top drinks and desserts).

Whether it's dirt-biking on dusty trails or fishing along the Delaware Bay, the great outdoors beckon. Join the action at Delaware State University, the Southern Delaware Roller Derby or the multiple Little Leagues. Professionals also hear the calling to Central Delaware: NASCAR's Drydene 400 races the Dover Motor Speedway each year, and Delaware Thunder hockey team skates out of Harrington.